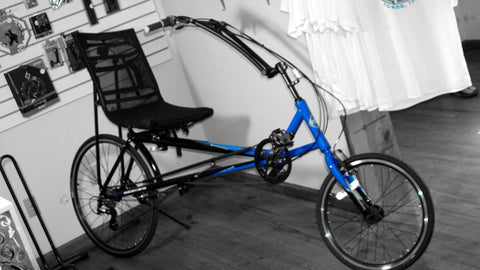 Recumbent Bike - Zephyr (SunSeeker)
This is a fantastic long wheelbase bike!!!   Smooth riding, intuitive to ride and beautiful.
We got this on trade in.  It has less than a couple miles on it!  Basically a new bike but we are pricing it hundreds below MSRP.  
The Sun Zephyr is as close to a perfect touring recumbent as one can get. Featuring a fast 700c rear wheel, high-pressure tires and easy 24-speed gearing, this bike will cover lots of miles without lots of effort. The Zephyr's reliable Sturmey Archer internal three-speed hub gearing and external 8-speed cassette give you every gear you'll need on the rear wheel alone without the front derailleur concerns of other traditionally-geared bikes. An easy saddle position and tall, close-reach handlebars allow for quick adjustability and instant comfort. A mesh-backed saddle keeps you cool, and spare bottle mounts on the handlebar and seat frame let you hydrate for the long hauls.
Lightweight 7005 series alloy frame, TIG welded
High-tensile steel fork with chromoly steerer
Fast-rolling alloy 700c rear, 20" front wheel with stainless spokes
Kenda high-pressure (100psi) tires front and rear
Lightweight 3-piece alloy cranks with steel 42T chainring
Sturmey Archer INTER-3 hub with 8-speed cassette for 24 total gears
Alloy v-brakes front and rear
Alloy recumbent handlebars with two H2O mounts
Heavy-duty kraton rubber two-tone grips
One-piece recumbent seat frame with mesh backrest
Seat back features adjustable recline, two additional H2O mounts
Available for local pickup only. If shipped, it will be shipped completely assembled.
---
We Also Recommend
---