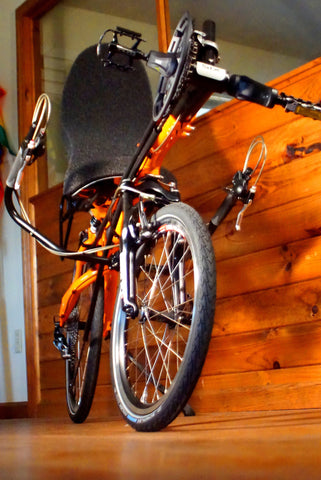 Recumbent Bike - AZUB 6 (AZUB)
The AZUB SIX is a user-friendly bike with really amazing riding properties. It results from  ten years of experience in this recumbent's development. 
Very European recumbent design is evident. Geometry of the AZUB SIX model includes the bottom bracket located lower than the minimum height of the seat. This makes it suitable for a comfortable ride without any significant effort. A 26" rear wheel further improves the already excellent comfort of this bike, which can be amplified by adding a suspension front fork.
You can also find the AZUB SIX model in the "Special Edition" as the Expedition version for long-distance cycling trips. Components carefully selected just for this purpose are a must.
Much as the other bikes that we offer, is AZUB SIX offered in several equipment levels with a number of upgrades and accessories.
These are some of the reasons "why:"
easy to use
the same height of sitting and pedaling provides you with a perfect steering ability and fast starting so that even biking in a city traffic doesn't cause any problems at all
convenient for use as a transport to work as well
a relatively steep position of the seat enables you an incomparable view
perfectly storable - the lenght of AZUB SIX is the same as the length of a trekking bike
unique adjustability
---
We Also Recommend
---