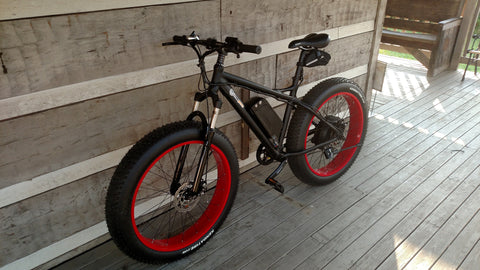 U-Man Power Dominator
This is what you've heard about for a few months.  U-Man Power is now importing our own line of aggressive, high powered electric assist fat tire mountain bikes. These monsters come in a base level of 500w, 48v initially and we will be adding options for 750w, 100w and full hunting packages.   This bike has a 7 speed rear cassette and three different pedelec levels in addition to a throttle. The unit shown here has a front suspension fork which is a $100 add on option (NOT INCLUDED ON THIS ITEM FOR RIGHT NOW)> The base unit comes with a rigid fork but with fat tires you really don't need any suspension. 
And when you buy a U-Man Power Dominator, you are also funding the following charities:
American Families of Veterans
Haiti Mission (orphanages, transportation and water and school projects in Haiti)
Jenna K. Transverse Myelitis Medical Fund
You see, this is not just about getting a cool bike for HALF of retail but you are also changing the world.
These bikes normally sell for $1500 and on up.  We are offering the first 50 bikes at $850. After that we reserve the right to raise the price.  Get your order in now and get your bike at the greatly reduced price.  We drop ship these directly from our warehouse. If you are in California you can pick your bike up in person and save the $150 shipping cost.  
This is a group buy. Your bike will not be here for 45 to 90 days. Yep, there is a downside to getting it so cheap.  We put your money in a secure account and when we get enough to initiate our buy, then the bikes are on their way.   Your card will be debited immediately though.   For details on how this works, call us.
---
We Also Recommend
---